December 17th marks 30 years since Matt Groening's The Simpsons first came to life on our television sets (image source: 20th Century Fox Television)
By Nahum Gale | @NahumGale
It was the Christmas season of 1989 when the world first opened their hearts to an animated working class five-piece family called The Simpsons.
Thirty years later and the dysfunctional, suburban family have made waves in popular culture; defining decades, diversifying comedy and reasserting good-hearted family values.
And now, after 31 seasons, the show will be turning the big 3-0.
Amassing fans over three separate decades with genius writing, classic episodes and a constant list of talent attached to production, The Simpsons have managed to remain relevant since their original airing.
So, in retrospect, how has one of the most notoriously long-running television shows in history been able to sustain their ever-lasting relevance?
On The Record spoke to members of the public to form an understanding of how the show has impacted society and to see how the 30th anniversary should be celebrated.
Mitchell Manser, a full-time employee working in warehouse and administration in Mount Gambier, said his favourite episode was Episode 3 of Season 4, Homer the Heretic.
"I connect with the show as I share the same sense of humour with it; re-watches never get old with The Simpsons," Mr Manser said.
As for how the show should celebrate its 30th anniversary, Mr Manser said, "they could do a throwback to the most famous and highest acclaimed episodes".
(Image source: 20th Century Fox Television)
Brandon Klar, a student studying Electrical and Electronic Engineering at UniSA said his favourites are Episode 18 of Season 8, Homer vs. the Eighteenth Amendment and Episode 6 of Season 10, D'oh-in' In The Wind.
"For me as a kid, growing up, it was a ritual; go home, watch The Simpsons, go to school and talk about last night's episode with mates," Mr Klar said.
Mr Klar also suggested for the 30th anniversary celebrations should be spent "with friends, over a couple of drinks, as if it were any other catch up".
Kai Muller, a student studying Marketing and Communications at UniSA said his favourites are Episode 9 of Season 5, The Last Temptation of Homer Episode 9 of Season 6, Homer Badman and Episode 4 of Season 7, Bart Sells His Soul.
"They all feel relevant even though the episodes are 20+ years old and the characters remain timeless and relatable," Mr Muller said.
"I think they should start trying to wrap The Simpsons up over the course of the next few seasons," he said concerning the show's 30th anniversary.
"I would love to see them bring back some of the legacy writers from the original seasons to end the series on a high note."
Evidently, The Simpsons have managed to riddle themselves through the history books, touching people in diverse and specific ways.
And the show has seemingly achieved such a genuine response from the public with all signs pointing to three decades of relatable storytelling and character work.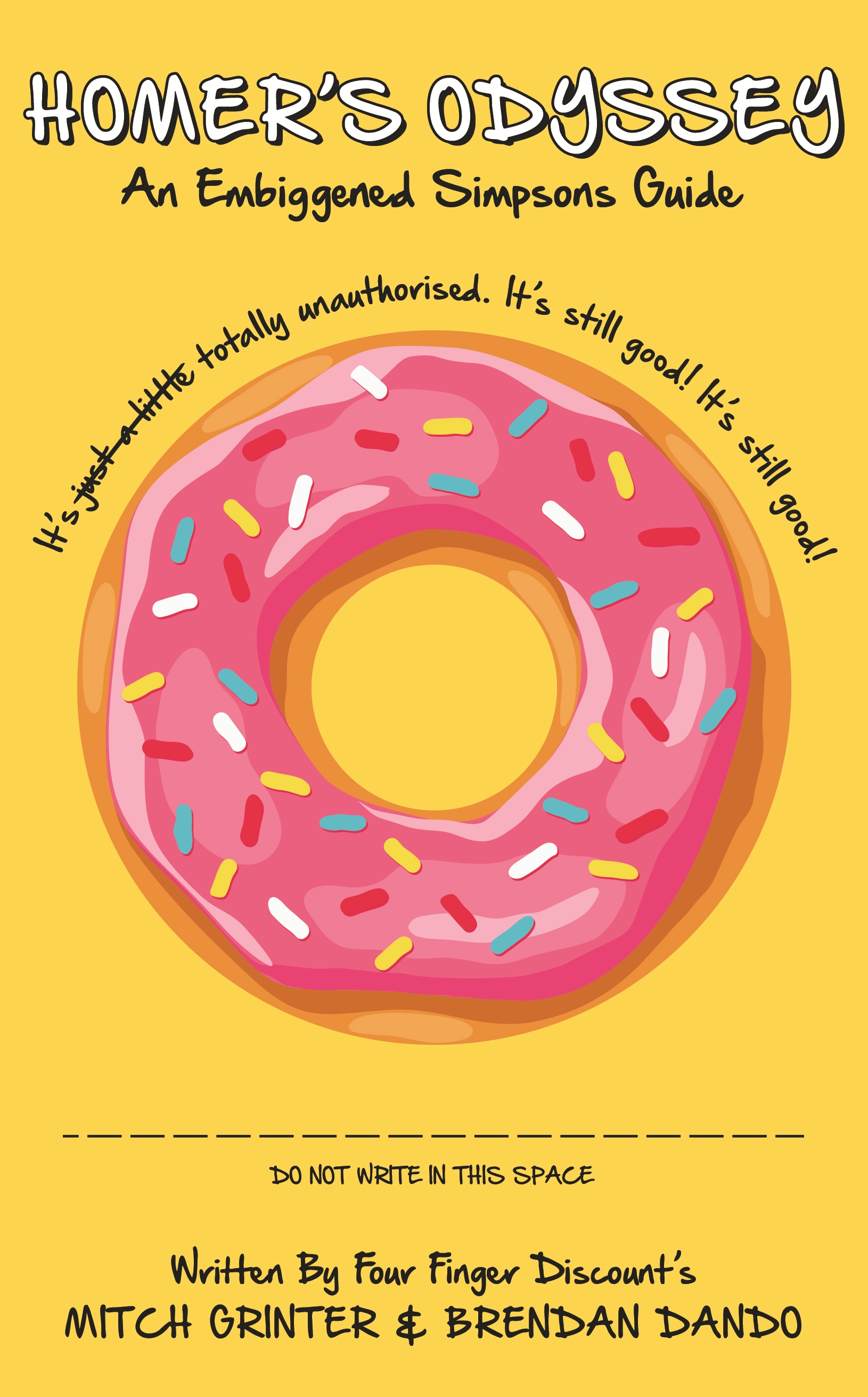 Homer's Odssey: An Embggned Simpson Guide by Mitch Grinter and Brendan Dando (Image source: Penguin Books Australia)
Mitch Grinter is the co-author of Homer's Odyssey: An Embiggened Simpsons Guide and the co-host of The Simpsons-based podcast, Four Finger Discount.
With his love and obsession for the show present in his literary and auditory works, Mr Grinter was able to shed some light on reasons for the show's longevity.
"For so many years it excelled in dealing with topics we all know; it was about school, it was about work, it was love, it was about marriage," Mr Grinter said.
"The first four to five seasons, in particular, are about timeless themes and it nailed the satire so well that you could easily see yourself in one or more of the four key characters."
Mr Grinter said the earlier seasons were where the show really took shape and formed its foundations to continue its genius for years to come.
"The show was truly great from season 2 to season 8," Mr Grinter said.
"Its peak for me is season 4; I think the show was at its most intelligent, had razor-sharp writing and was still new enough that everything felt inventive.
"[Seasons] 3, 4 and 5 are what I would call [the show's] true golden run."
And within that "golden run", Mr Grinter dialled in on what he believed to be the defining episodes that eternalised the show's most loveable antics.
"Bart the Genius, Life On the Fastlane and Krusty Gets Busted are probably the three episodes from season 1 that really set the template going forward," he said.
"[Although], Marge vs. the Monorail stood out as a turning point for where the show started taking risks with reality-breaking comedy.
'They discovered they could get away with anything if it was funny; a blessing and a curse in later years."
That blessing opened the doors for The Simpsons to win over 10 'Outstanding Animated Program (For Programming One Hour or Less)' awards at the Emmys.
Along with huge critical acclaim for the writing and voice work of its earlier seasons, The Simpsons even saw the release of a feature-length film in 2007.
Although, as Mr Grinter mentioned, blessings come hand-in-hand with curses as many fans have believed the show to have 'jumped the shark' in recent seasons.
"Simply put, there is only so many ideas you can have," Mr Grinter said.
"Once you have had your best ever ideas, your next best will never be as good, and so on.
"So, you are now writing a show that is already had its best 200 ideas, plus another couple hundred good ones and a couple hundred more that were ok.
"The show is competing against itself and that is a fight you cannot win forever."
(Image source: 20th Century Fox Television)
And with The Simpsons having recently made their way to streaming under the banner of Disney, the debate on where the next few years will take the show continues.
Never mind its uncertain future though, The Simpsons continue to reaffirm its wealth of loveable and rich family comedy, from re-watches to the occasional well done new episode.
"There is an entire generation of people who can communicate using only Simpsons quotes or hold political discourse entirely with Simpsons memes," said Mr Grinter.
"On a more academic sense, there would not be a comedy in existence that does not owe a debt to The Simpsons.
"It was the Mecca that all writers aspired to work on in the 90s as an entire generation of talent grew up on a diet of some of the sharpest minds in T.V."
As for Mr Grinter's recreational and vocational attachment to the show, the author dialled in on how and why The Simpson have played so intrinsically into his life.
"It makes me laugh no matter how many times I have seen it," said Mr Grinter.
"It connects me to other people just through mutual recognition of a line, or appreciation of an episode.
"It takes me back to a beautiful time in my life when the most important part of a school day was to catch up with my friend at lunch and spend 20 minutes quoting last night's episode to each other.
"Watching it, quoting it, thinking about it… it just feels like home."
As for how Mr Grinter believes time will treat the show in the coming years and whether or not there is a foreseeable end in sight for the America's favourite T.V. family, he had this to say.
"Ultimately, everything ends, but its legacy will last for decades to come."
And how could that not be true?
With its dictionary defining quotes and catchphrases like "D'oh" to its continuously thrilling and entertaining episodes like the annual Treehouse of Horror, The Simpsons have wedged their spot in the cultural zeitgeist like no other show in existence.
No matter that it's surpassing an expiry date or shifting ownership from Fox to Disney, the adventures of Homer, Marge, Bart, Lisa and Maggie Simpson have become somewhat of our modern mythology.
A tapestry of contemporary, working-class life – as extreme and over-the-top as it can be – The Simpsons have artistically reflected the times with such finesse through heartfelt and humorous talent.
As they turn 30, the quirky townsfolk of Springfield move into a new era that will never not be mysterious but is, at the very least, already a legendary new step.
And as we've seen, there are plenty of diverse and sentimental ways for the show to celebrate such a milestone.
But maybe the best way to celebrate is doing what early days Homer would have wanted us to do: going out for some frosty chocolate milkshakes.